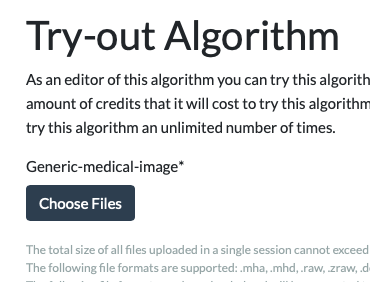 The MIDOG challenge is now in full swing and it's only 1 month until the preliminary test phase starts. So it's time to highlight some details about the preliminary test set and the procedure of running your algorithms on it:
As with MIDOG 2021, it is not possible to download the images of the preliminary test set. Instead, the participants are requested to embed their algorithmic approaches into a docker container. Details about how to do that can be found on this youtube video from MIDOG 2021:
Next, you will have to upload the your saved docker container to the grand-challenge.org platform and submit it to the evaluation on the test set, as shown in this video (also from MIDOG 2021):
Submission of algorithms to grand-challenge requires prior verification of your account. Please see this link on how to do that. For many educational email addresses this will be done within an instance, but for other email providers it might take longer. Please plan ahead that and verify your account early.
Please try to raise any issues on the forum on grand-challenge.org.
The preliminary test set includes a pure white image (000.tiff). This image is included as a technical validation to check if algorithms can handle zero detections and images with unexpected staining.
Please note that the preliminary test set is not a very close proxy task for the final test set, as it is much smaller (20 cases vs. 100 cases), only includes 4 tumor types (10 are in the test set), and these tumor types are, in addition, disjunct from the test set. So it is not very likely not sensible to try to tune hyperparameters on the preliminary test set.
Please also note that extensive use of compute time might lead to your tasks being aborted.
The grand-challenge team is very dedicated on delivering a good service. But please note that they are an academic institution and not an industrial provider, and things might take time. They do have a very able support team – please be kind to them!